The first thought that crossed my mind after hearing of the major earthquake in Japan?  I wonder what my professor is going to say about this.
My opinion formed quickly: The devastation to the country of Japan was heart-breaking and terrifying. I didn't need to see many photos to be overwhelmed by it. The sorrow is similar to what was experienced after the earthquake in Haiti, but I want to highlight the key differences on why these events cannot be compared.
Buildings and infrastructure that are safe for strong seismic events cost a lot of money. Safe designs are what ultimately save lives. So, you could say that money is proportionate to safety when it comes to major earthquake events. Less fortunate countries don't have modern infrastructure. Instead, their major cities are constructed poorly of inadequate materials.
With enough steel reinforcement, concrete, and money, engineers can design a structure to resist powerful shaking from earthquakes. However, there is no amount of reinforcement that can save a building from the most powerful forces of tsunamis, i.e. high-velocity waves, debris, houses, even locomotives. But ultimately, we are only defying Mother Nature. If Mama wants to take something down, there really is no stopping her.
The result: humanitarian catastrophe. The crisis in Haiti continues to this day, whereas, I believe Japan will work quickly towards recovery.
Location, location, location
The epicenter of the earthquake in Haiti was located on land, just 10 miles from a major city.
Japan, in one small sense, got lucky this time. Their earthquake was ~100 miles out at sea.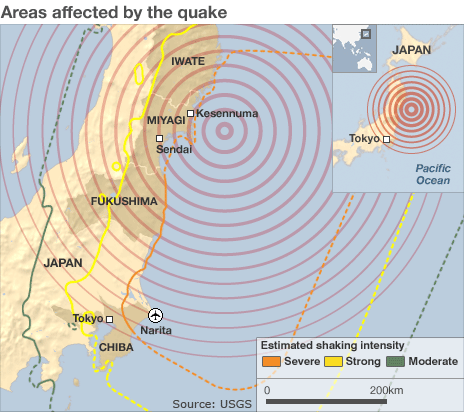 My point: comparing earthquake events really is apples to oranges. These events are Mother Nature at her harshest. Just as no two snowflakes are alike, neither are two forest fires, nor earthquakes, nor tsunamis.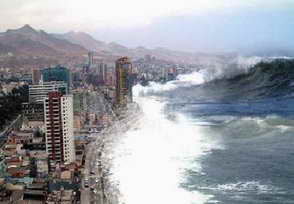 One of my classmates is from Indonesia, he lived there when it was hit with the single worst tsunami in history. No wonder he decided to study earthquake engineering.
I think this phenomenon might be the most terrifying of all natural hazards.  30 foot high waves, sweeping away entire towns into the ocean… it doesn't get any worse.
On Wednesday, we spent almost an hour of the lecture talking about the event. We had questions, he had opinions, and I think everyone in the room was interested to hear them. His major talking points:
Worries about nuclear power, re: the human factor
Japanese engineers did great
U.S. would be equal to or worse off in same situation
How do you think the U.S. or your country would hold up to this kind disaster?
P.S. When I was in elementary school, I was obsessed with Japan and wanted to move there.
GREETINGS

Welcome to Blunder Construction! Forecast is yummy with a 90% chance of cats.

Browse for posts by category or search the ever-growing food lists.

PROJECTS

ARCHIVE